Looking for Minimalistic Small Tattoo Ideas or tattoo inspiration? A tattoo is a personal reflection of the human that lies beneath the art. A living canvas, body art, graffiti, a conversation starter, a fashion accessory, and much more, tattoos are the means of self-expression of mankind.
Beauty may only be deep as skin, yet the reasons can run far deeper than getting inked. Therefore, before you think about different styles, ideas, or inspirations for a tattoo, try to think and focus on your reason for getting a tattoo that will stay with you forever and affect your appearance and personality.
Find your reasons like: Is it a birthday gift to yourself? A tribute to someone? A matching couple tattoo? Or do you want to get it just because you want to?
All of these reasons are completely relevant, and it also might be even sum of multiple reasons. Firstly, establish the meaning behind your tattoo, and then you can figure out what tattoo or what style or design would be preferable to you that will suit you.
A good first tattoo is a small, simple design, especially if you're feeling hesitant or unsure about how it will appear in your body. Small tattoos also take less time, so you won't have to endure hours of pain. Moreover, it will give you a good idea of the process from start to finish. The bonus could be the healing time, as there is less ink to heal. Tattoo shops generally charge by the hour, with a minimum starting price, so getting something small inked into your skin can be inexpensive. It will cost according to the details and colors you have and the more time it will take.
According to a study in 2017 by Polish researchers called "Tattooed men: Healthy bad boys and good-looking competitors." women perceived men with tattoos as much more masculine, dominant and healthier. Masculinity and dominance are some desirable traits in themselves. Tattoos attract attention because they portray the wearer as brave, strong, and healthy to go under the needle and survive any infection.
Moreover, it also highlights the best body parts by drawing attention to the biceps, backs, and chests. While tattoos are generally attractive, an appealing tattoo can also turn into a piece of regret, so make sure to pick a skilled artist with excellent quality work. Tattoos should reflect your style and personality, like the clothes you wear. Classic, simple, minimal-look tattoos are ideal for guys with a chilled-out approach to life. Single black ink, simple one lines, and stripped-back designs that look cool yet meaningful without getting too complicated.
Here are some best Minimalistic Small Tattoo Ideas for men to tempt you under the needle!
1. Simple Finger Tattoo – Minimalistic Small Tattoo Ideas
Finger tattoos are usually simpler and better. However, finger tattoos tend to fade quickly; therefore, precise, clear, stripped-back designs look better and last longer with detailed ink to avoid that blurry effect. A superfine ring tattoo, a 'hidden' word tattoo on the side of your finger, or a starburst can be a good one to try.
2. Simple Small Shoulder Tattoo
A simple sobber back design looks equally good if it suits your personality, however, many guys choose large, bold shoulder tattoos, but some don't match their personality. A minimal design like a geometric pattern, a short quote, a binary code, or roman numerals are all extremely good choices for guys who want a simple inking that is yet meaningful.
3. Simple Hand Tattoo
A simple, small tattoo always looks best when placed on your hands. Some geometrical tattoo designs or similar patterns on the back of your hand could be a good try. Moreover, a simple quote or message that interprets your definition of life would also be great.
4. Simple Forearm Tattoo
The forearm is ideal for a small and simple single-lined or geometric tattoo. Word or name tattoos in simple handwriting are also an alternative solution. Prominent tattoos will stand out as small and large designs look great when placed there. Use only black ink to avoid your tattoo becoming too complicated, and choose the design accordingly.
5. Simple Chest Tattoo
Choose a simple design for your chest rather than a complicated one to describe your feeling about life. While men choose big chest tattoos, ending with a complicated design that needs to be elaborated more easily. Meaningful yet simple tattoos like names, simple art, or anything close to your heart look great as a chest tattoo.
6. Simple Ankle Tattoo
An excellent option for men is an ankle tattoo. Cropped trousers without socks are currently a fashion trend, and an ankle tattoo makes it looks better. Sober and classic ideas of one-word messages, geometrical shapes, anchors, and crossed arrows representing friendship, travel, and wanderlust are simple yet very appealing.
7. Simple Wave Tattoo – Minimalistic Small Tattoo Ideas
Men with a positive and relaxed approach towards life always choose wave tattoos, which reflect their personality. Waves tattoos are a simple and suited tattoo for any man as they are instantly recognizable. A wave tattoo can give various positive meanings to life. The waves of water constantly change and movies without being controlled, meaning that life goes on, whatever the situation or condition. We need to accept it and move along with it.
8. Simple Small Mountain Tattoo
Mountain tattoos always represent a person's strong nature to stand straight and overcome every obstacle in life. It also has its connection to the wilderness. These massive natural land formations also represent consistency, symmetry, and eternity. If someone is looking for a shape but not a directly on-the-face idea, then mountains work very well as a simple tattoo, as it will also fulfill the design of a good triangle.
9. Simple Compass Tattoo
The compass is about navigating your way through life or your love of travel. It can also be considered a concept of your decisions in life, or even it can be represented as a tribute to the important person who guided you to your choices and decisions in life. You can choose several compass tattoo ideas, but one of the best ones that will suit every man is a simple two-line tattoo with the initial letters for east, west, north, and south.
10. Simple Cross Tattoo
The holy cross as a tattoo is one of the simplest and most meaningful. Men with high religious values can go with this tattoo as it carries a lot of power. It serves as a reminder of your faith, love, and commitment to Christian life, and it will also make you feel that God is always with you. Even for other laidback men, who are unsure of getting a tattoo or even unsure about the design, a cross tattoo can never go wrong, and it also doesn't need extra embellishments.
11. Simple Sun Tattoo
The sun represents life, energy, and the soul of life. It is a simple yet powerful symbol that can be taken as a tattoo idea. Any design of the sun, whether small, large, rising sun, or even sunset design will make a minimal but strong tattoo. Describe your artist drawing a circle and adding lines representing the sun's rays. It will be an awesome pick if you have a strong personality with greater values of life and also will look amazing and easily recognizable.
12. Simple Moon Tattoo
Unlike the Sun tattoos, the Moon tattoos can have very different meanings. Moon tattoos have a deeper symbolic representation. The moon can also symbolize transformation in shape as it wanes and waxes over time. If you express a change in your life, a crescent moon is an amazing choice regarding the tattoo design. Moon and sun-themed tattoos are also classic pairs of choice for couple tattoos. Also, someone who likes night over the day can choose a moon tattoo for a reason.
13. Simple Elephant Tattoo
Elephants are a symbol of prosperity, wisdom, and good luck.  Elephant tattoos are preferred by people who are generally 'old souls' because of their memories and long lives. The outline of an elephant as a tattoo in black strips is unique to the animal itself. Adding colors to fill up the tattoo will not be a great idea.
14. Simple Lion Tattoo
The lion is a proud, majestic animal. Almost all men around the world love all these majestic animal tattoos. Lion tattoos are good-looking in all art styles. Inking a lion as a tattoo design is a simple and minimal approach to symbolizing peace, power, and strength whenever necessary.
15. Simple Arrow Tattoo
Arrow tattoos are simple and stylish. They look good on arms and legs but can also be placed in other parts of the body. An arrow can represent the direction in life and the path to achieve greater goals and also help you stay focused on your respective direction without getting any distractions.
16. Simple Anchor Tattoo
An anchor tattoo is a simple, meaningful, and recognizable symbol that doesn't need to add too many details. Anchor tattoos symbolize safety and hope. It is also among the popular choices for couples' tattoos. Preferable places to get an anchor inked for men are on their wrists and ankle.
17. Simple Tree Tattoo
Nature looks good everywhere. And people who love nature, a tree tattoo is a great pick. Apart from symbolizing love towards nature, they also symbolize growth, protection, and life. Different kinds of trees can represent different meanings; a palm tree can represent an optimistic amd relaxed approach to life.
18. Simple Dragon Tattoo
If you are looking for Minimalistic Small Tattoo Ideas, Dragon Tattoos can be a perfect match. Dragons are strong, powerful, and fierce and are always a popular tattoo choice for men everywhere. However, the size and structure of the dragon tattoo don't matter in terms of its impact. Men with simple, sober, and minimalist styles can choose a dragon tattoo idea with a stripped-back design, like a dragon circle.
19. Simple Owl Tattoo
Owls are considered to be calm and wise. Currently, owl tattoos are gradually becoming much more popular. Owl tattoos always stand out with style in any design and represent knowledge and wisdom. They are also considered spiritual guides in many cultures. An owl's one-line or outline tattoo design would look amazing, unique, and modern.
20. Simple Skull Tattoo
Shull tattoos have different variety of cool meanings, apart from looking badass. Skull tattoos are generally chosen as a self-reminder to live every single day of life as it is your last day, making peace with mortality. Various tattoo ideas can be adapted with different art styles, but the classic skull on any part of the body, according to one's preferences, never goes wrong.
21. Simple Tribal Tattoo
The simple and Minimalistic Small Tattoo Ideas design can never go wrong with a trible design tattoo. A smooth one-line or outline tattoo with single strokes makes a tribal tattoo look amazing. Tribal tattoos generally suit the shoulder around upper arms, muscles, and bones, making your body looks more static when moving. Few men also prefer the wristband idea of tribal tattoo, which never goes wrong with any personality or outfit.
22. Simple Crown Tattoo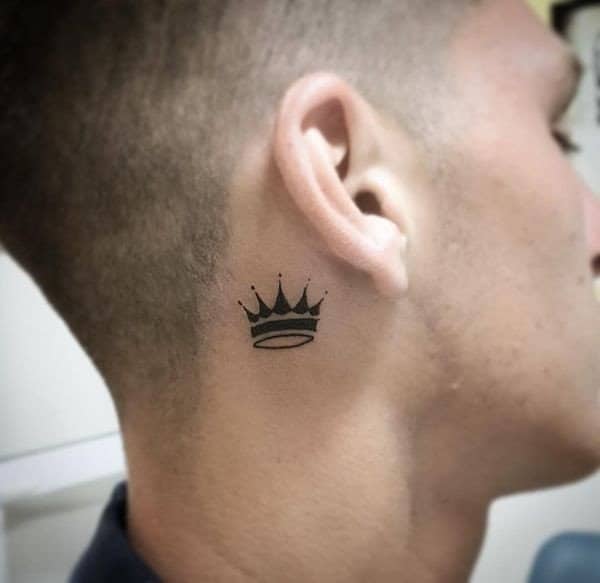 A crown symbolizes a king. Many men usually combine a crown tattoo with a lion and other designs with fine ink details. But a crown tattoo will also look good in its simple form or silhouette. Crown tattoos are also very popular choices among couples for matching.
23. Simple Cat Tattoo
Cats are cute, mysterious, independent personalities. Cats are also the most beloved animal by many people around the world. Cat tattoos are very cute, simple, easily recognizable tattoos. Men with mysterious, independent personalities can choose a cat tattoo. A simple cat tattoo is always a good choice if you want to pay tribute to your pet.
24. Simple Angel Wing Tattoo
Simple Angel Wing tattoo is one of the Minimalistic Small Tattoo Ideas that is very much suitable. Angel wing tattoos with single and simple strips design can look amazing. Color filling in the angle wing can also look amazing. Angle wing tattoo can symbolize a person's 'guardian angel' protecting them from the evil eye and terrible things in life, Biblical figures such as the Archangel Micheal. An angel wing tattoo can also be a tribute to loved ones when they pass away.
25. Simple Bear Tattoo
Bears are powerful, courageous personalities with great parenthood skills, with skills to defend and protect their cubs. Bears are also intelligent with primal instincts. Tattoo ideas of bears range from grizzly bears and polar bears to cute pandas. Simple black ink and outline silhouette tattoos of bear look amazing. Anyone with a protective, courageous nature could go for a bear tattoo. It will look good when placed on the forearm and ankle.