We all have heard about different love relationships. But in this article, we will discuss the cricketers who married their cousins. Doesn't it sounds interesting!!
Well, Let's find out the deep dark secrets of our star cricketers. And it's not something new; there have been many incidents where they are found to be related to their cousin or relatives. So now let's spice up this article with some latest life-related activities of the cricketers.
1. Virendra Sehwag and Aarti Ahlawat
Let's first talk about India's favourite cricketer Virendra Sehwag. Who doesn't know the heartthrob of the Indian cricket team? He was just like the shining light for the fans and the team.
Talking about his love life and marriage, he married Aarti Ahlawat, notably the daughter of Sehwag's relative. They dated for almost three years and finally decided to tie the knot for marriage. Their love story is nothing less than a fairytale romance.
The most exciting part about their love story is that they met each other when they were kids of just 7 years. The perfect song plays in the background while we listen and read this.
The puppy love turned into reality when Viru, popularly called Virendra Sehwag, finally decided to propose to the love of his life at the age of 21. But when they finally decided to marry, their parents were not okay with it but, with time, understood and decided to give the duo blessings. Now they are living a happy and prosperous married life with their kids.
2. Saeed Anwar and Lubna Anwar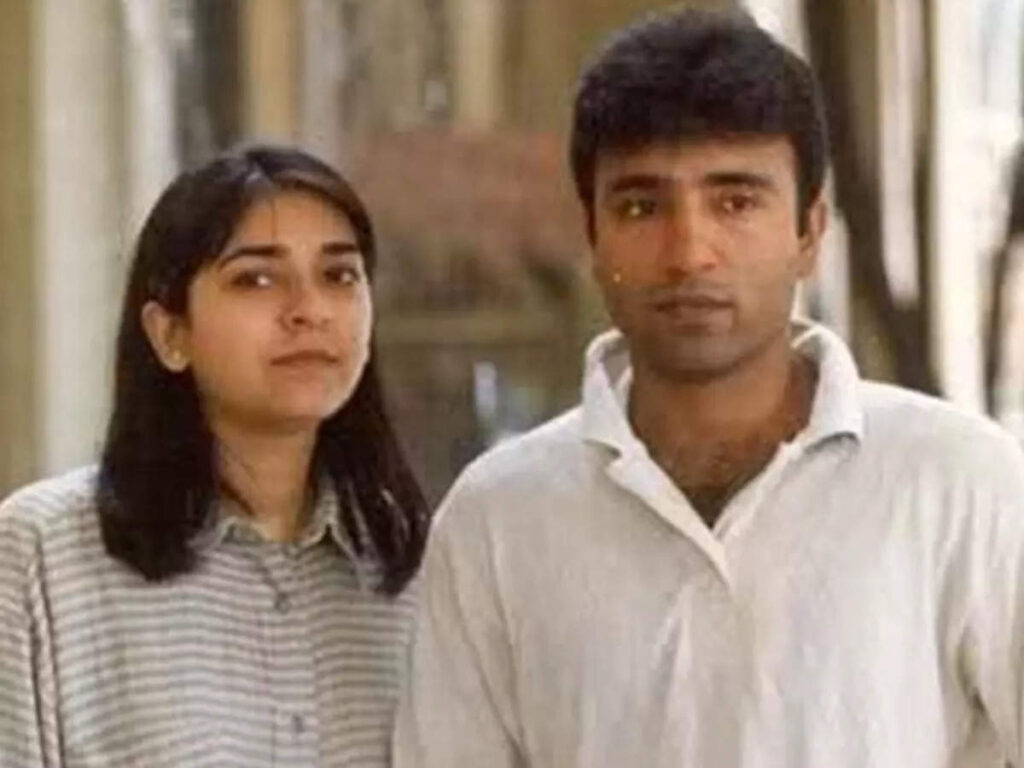 We all know of the famous cricketer, opening batsman and an occasional slow left-arm orthodox bowler, Saeed Anwar, who plays for the team Pakistan. Well, his love life is also exciting to dig into. He also married one of his distant cousins Lubna and officially tied their nuptial knot in March 1996.
3. Shahid Afridi and Nadia Afridi
Former player of Pakistan, Shahid Afridi, who has now retired from cricket, has been married to Nadia Afridi for almost 20 years. But the main spice lies here: Nadia Afridi is his cousin and maternal uncle's daughter. However, it was a strictly arranged marriage, but they have been living happily ever after.
4. Mustafizur Rahman and Samia Parvin
The world has become so digitalized that people worldwide can access every kind of information from various corners. And in this digital era, cricketers' personal life is no longer hidden from their fans.
They want more stories about their fellow cricketers that are not limited to the excellence of cricket but also of their personal and married life for some latest gossip and fun.
Now we will talk about the former Bangladesh fast bowler Mustafizur Rahman, who has contributed significantly to cricket. He has established himself in international cricket. The news doesn't stop here!
He officially tied the marriage knot with his maternal cousin, Samia Parvin, a Psychology student who decided to get hitched after the 2019 world cup.
5. Mosaddek Hossain and Sharmin Samira Usha
Mosaddek Hossain, who plays for Bangladesh's national cricket team, is next on the list who married his cousin Sharmin Samira Usha. They have been divorced, but the story turns fascinating when his wife alleged and accused him of taking dowry, which is not just a tiny amount but approx of 1 million.
After all the drama and accusations after their divorce, he again remarried, but this time it's not any cousin but Umme Tamanna.
The cricketer's life is full of ups and down, but when we dig into their personal life, there are a few things that definitely attract the audience's eyes.
While the fans want to be up-to-date about their know-how, they also want to know about their married life and affairs. What is life even without some spice and tadka, right?