The mullet hairstyle is a fashionable men's hairdo that has made a reappearance in recent years when it comes to popular haircut designs. The mullet haircut, which was one of the most iconic hairstyles for guys in the 1980s, was often described as "business in the front, party in the back." The mullet, which looks great on thick, straight, wavy, and curly hair, may elevate your look to the next level for a sleek and contemporary look.
There are several stylish haircuts to consider, whether you prefer a classic or trendy look. For a low-maintenance look, some men prefer a mullet fade with short hair, while others prefer a longer mullet with tapered sides for a fashionable look. The mohawk mullet has become a new trend that has been embraced by punk males and baseball players alike if you're seeking an edgy variation. It can be difficult to get the correct mullet hairstyle because there are so many different styles.
Also Read: 72 Super Smart Tattoo Ideas for Men
One of the most iconic men's haircuts of the 1980s was the mullet. While this short in the front, long in the rear haircut has been the subject of many jokes, it's making a comeback. For its eye-catching shape and laid-back atmosphere, football players, artists, and fashion tastemakers have all begun to love the mullet. The mullet is all business on the outside, all party on the inside! It's a style for men who don't mind standing out from the crowd and don't take themselves too seriously. It's also a surprisingly flattering appearance that works well with a wide range of face shapes.
What is a Mullet?
The mullet is a hairstyle for males that features short hair on the front and sides and longer hair on the top and back. The modern mullet has become a popular haircut in barbershops all around the world, whereas the classic look launched the trend. The mullet fade is a new take on a traditional style that offers a fresh and versatile cut that never goes out of style.
To create a unique style, guys might get a high, mid, or low fade. Request a skin, bald, burst, or taper fade haircut from your barber to further customize the style. Experiment with an undercut or shaved sides for a striking look. The mullet can be styled with a mohawk, a faux hawk, a smooth back, or a comb.
Here are some famous Mullet hairstyles for men
Modern Mullet
The modern mullet is a stylish men's hairstyle that features a long tail and short sides and back hair. The current mullet haircut features a fade or undercuts on the top and short to medium-length hair on the sides. Variations on this hipster cut include a high skin fade with a pompadour or sleek back that blends effortlessly into the style.
Curly Mullet
The curly mullet is a fantastic method to tame and regulate your curls while maintaining a fashionable style. To make a statement, a mullet for curly hair would frequently start with a shorter cut on the top and sides, leaving longer curls in the back. Keep your curly hair nourished and healthy when styling with light to medium-hold products to get a trendy mullet hairstyle with distinct curls.
Straight Hair Mullet
Because it's simple to cut and style, the straight hair mullet is the most popular variety. The straight mullet can be slicked back, swept to the side, or styled haphazardly, but it always looks best textured and natural. Guys with straight hair can try a fade or undercut, as well as short to medium length hair on top and a longer back, to seem classy and handsome. To achieve the right finish, use a light matte styling product such as cream or wax to add volume and thickness.
Mohawk Mullet
You can retain your hair at any length with this mohawk mullet hairstyle that defies gravity. Keep the top of your head a little shorter than the bottom for a more authentic mullet look – it'll be easier to style. Use gel to give volume to the roots if your hair is straight or short. You may even incorporate some sea salt spray into it for a more shaggy look, or leave it alone.
Mullet Shag
Unlike a classic mullet, which has hair that is somewhat separated from top to bottom, this shaggy alternative frames the face with many layers. This style is dramatic and a terrific way to pay homage to the 1970s while remaining contemporary. The versatility of this hairstyle lies in the several ways you may shape the layers — go for a straight fringe for a fashion-forward look, or go for a regular cut in the front while keeping the choppy trend going in the back.
Mullet with Fringe
For a high-fashion, editorial-inspired appearance, add strong bangs to the mullet. The strong, straight across sharp fringe gives it a futuristic flair. These bangs look great on oval faces because they emphasise the distinction between the front and back regions. Because this look is all about contrast, the long back part can be left unstyled, while the bangs themselves should be blow-dried smooth.
Undercut Mullet
If you're unsure about going all out with your mullet, an undercut is a fantastic way to give it a try. Shaving the sides and below will create the impression that you can glide your hair all the way down your neck in an instant. To produce the idea of a mullet, make sure your locks are shorter at the top of your head and longer at the crown. Simply gather your hair and tie it into a ponytail or bun when you're ready for a new look.
View this post on Instagram
Drop Fade Mullet
If you're not sure if you want to go all out with your mullet, an undercut is a great place to start. Shaving the sides and below creates the illusion that you can easily glide your hair all the way down your neck. Make your locks shorter at the top of your head and longer at the crown to achieve the look of a mullet. When you're ready for a change, simply gather your hair and knot it into a ponytail or bun.
80s Mullet
The 1980s are making a strong comeback, and not only in fashion. These days, the vintage mullet is all the rage. Back in the day, it was all about keeping your hair fluffy and full of volume, with added points for having shoulder-length hair behind your ears. Two of the most well-known versions are Billy Ray Cyrus and Rob Lowe. Stick to the extreme opposites in hair length and add a trendy touch to acquire the look these days. For a unique take on volume, apply gel to the tips and add a quiff or spikes.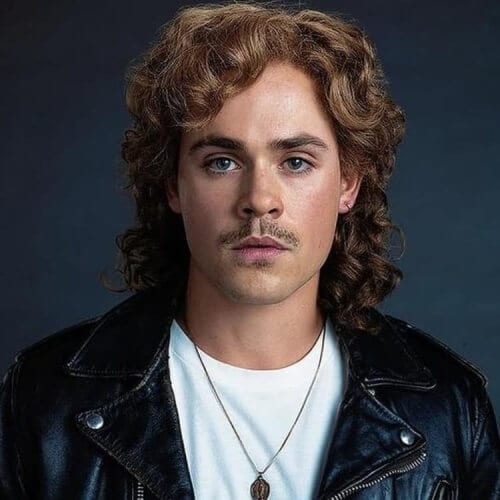 Dyed Hair Mullet Hairstyle
Brightly coloured mullets, such as acid green, magenta, or aqua, are considered futuristic. Spiky hairstyles work best, adding a punk edge to the cut. The mullet in a bright colour is perfect for fashionistas who aren't afraid to stand out. It's sharp, bright, and almost cartoonish. You'll be the centre of attention if you wear this outfit. It pops out whether worn with an all-black outfit or go for a bold style and wear it head-to-toe in colour.
In 2022, the mullet hairstyle is all set to make a comeback, but with a modern twist. This time, it's all about embracing natural texture, mixing in bright hues, and wearing more rigid yet unconventional shapes. More hair is preserved on top than it was in the 1980s, while the back length is not as excessive. As a result of this, the modern mullet hairstyle has a more rounded yet unique style.