BTS is among the world's leading k-pop groups and is earning millions which definitely paves their way in leading a rich, millionaire life. They are loved by almost nearly half of the population and are very famous among the youths. Many fans go gaga when they listen or talk about their BTS army. They have earned so much success in their life that they can afford to live a luxurious life worth millions of dollars. They earn around the total net worth of around fifty million dollars. With this much earnings can definitely afford to have a private jet, luxurious wristwatch, and whatnot.
View this post on Instagram

But have you ever wondered, what is inside of the BTS army million-dollar luxury watch collection? Hey there, BTS fans! Haven't you people thought about it? If not or even if yes, let us take a sneak peek of the inside life of the million-dollar luxury watch collection.
Here's our list of BTS members' luxury watch collections:
1) On the very first is everyone's favorite leader Kim Namjoon popularly known as RM and is the only member who is very much fluent in English. He has the ultimate and the latest collection when it comes to the luxurious watches collection. He has the very expensive rose gold Patek Philippe Nautilus 5712 which costs around $50,000 and Rolex which is designed in platinum ice blue with a diagonal motif dial is an oyster perpetual day date 40 watch which costs around $70,000 to $1000,000 and is very much elegant and royal looking.
Also Read: Top 9 Naruto female characters of all time
2) The vocalist and dancer of the BTS group, Park Jimin is next on the list. He is found showing his interest in the fancy brand Cartier created in the year 1917 he and owns a deluxe Cartier tank Americaine which is a very elegant and luxury piece that is beautifully crafted with the octagonal crown set with stunning blue and silver dial and costs around $ 6,300. It is definitely the ideal choice for Jimin.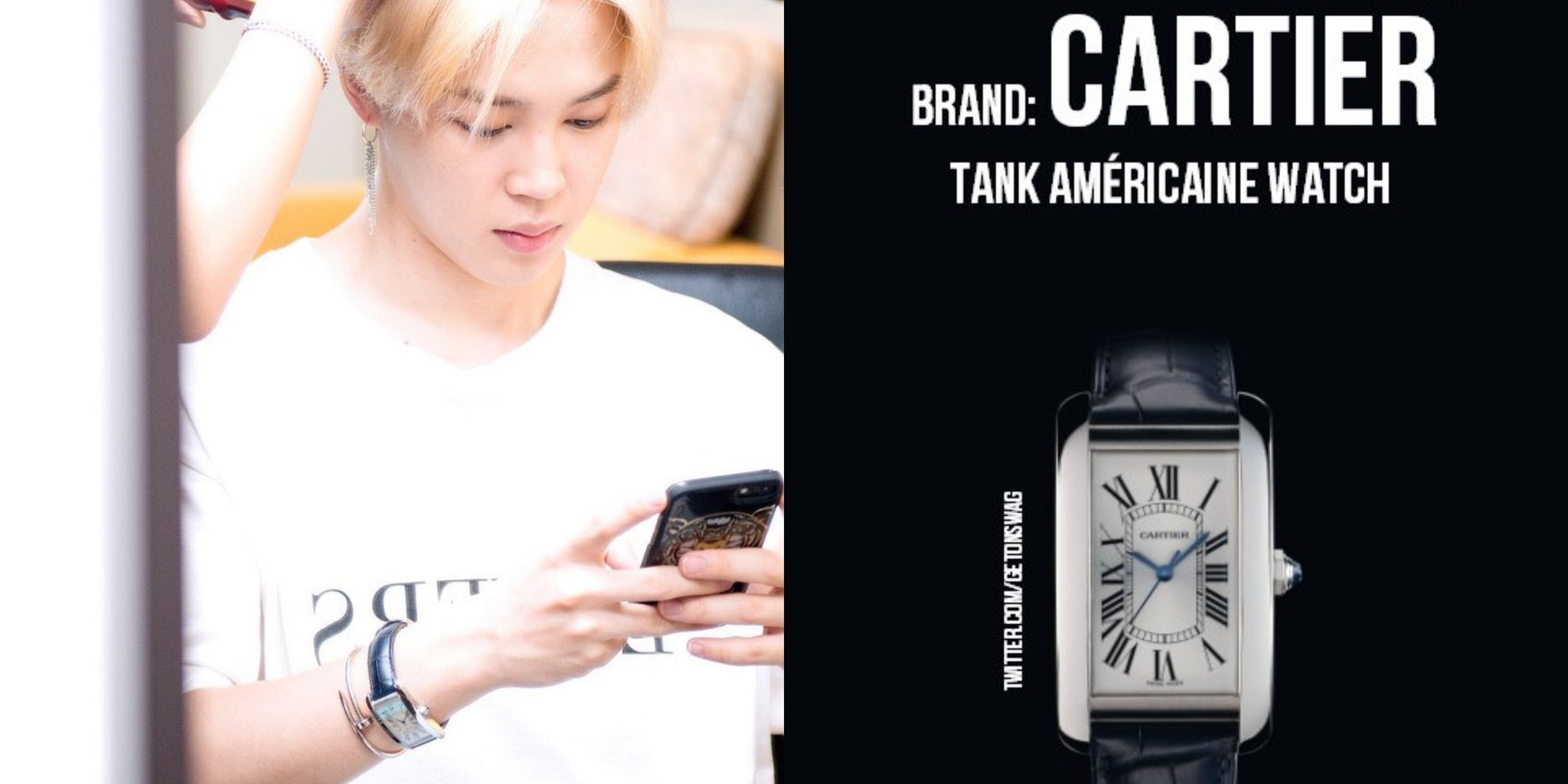 3) Jeon Jungkook is the youngest member of the group and is known to have the largest of all watch collections. As per sources, it is said that Jungkook has around nine Rolex watches and one of it is of the dashing two-tone submariner which is of around $15,000, a cosmography Daytona which is of around $35,000, and day-date 36 on a President bracelet which is thought of approx estimate of around $37,000.
4) The rapper and dancer of the group, J Hope or Jung Ho-Seok have a great fashion style and also own a luxury set of watches. He has a custom-made piece by a designer, Carolina Bucci, 37mm frosted gold Audemars Piguet Royal Oak self-winding watch with a jaw-dropping amount of around $ 51,000.
5) V also known as Kim Taehyung is seen wearing Gucci of 38mm quartz and Jaeger LeCoultre is a beautiful token of love from his Chinese fan as his birthday gift in the year 2007 as an elegant piece worth around $35,000.
6) Min Yoongi also known as Suga has a unique style of his own and is the rapper of the BTS group and owns a Rolex and an Audemars Piguet of 34 to 37 mm is worth $42,000. The silver color Rolex Oyster Perpetual Datejust 36 is unique in its own way as is seen to be worn by him many a time.
7) The eldest member of the BTS band and who is very much fond of pink, Kim Seokjin is very much fond of Rolex watches and is seen many a time wearing a Rolex oyster perpetual day date 36 in the tone of ever rose gold and in white gold shine which is at the cost of around $55,000. He also has other pieces among which one of them is beautifully crafted with diamond with a 36mm dial and 18 karats white gold case.
So, this is all about the sneak peek into your favorite BTS armies' life and the elegant and luxurious watches possessed by them. Obviously, they are unique in their own way and some are even beautifully personalized.