Hunter x Hunter, which version did you like the most? Old one, which was released in 1999 or revamp 2011 series? Even though it was revamped the series followed the same original story. Well, according to critics and anime fans, it is the finest Shounen series of the new era. However, there are plenty of anime like Hunter X Hunter, just in case you're in search of similar anime to watch.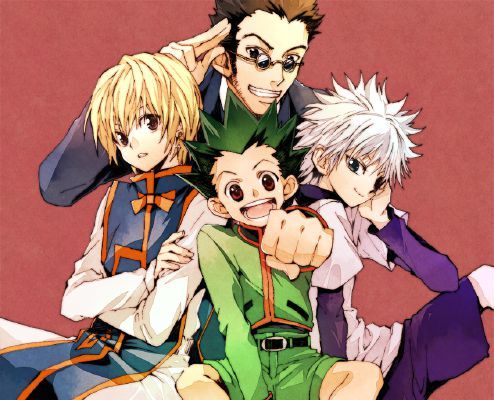 Before anything else, for the new visitors or who haven't watched Hunter X Hunter series yet, let me give you a short review of this series:
To begin with this series has everything – heart pounding action scenes, adventure, Shounen, fantasy, amusing characters and super powers blended in one story. Basically, it is based on a Japanese manga of the same name written by Yoshihiro Togashi.
The series tells the story of a young boy named Gon Freecss, who believed that his father was dead. One day he discovers that his father, Ging is alive and is a legendary Hunter. Well, here Hunters are licensed professional individuals who've proven themselves as elite members of humanity.
Despite knowing that his father, Ging left him to follow his dreams, Gon decides to follow his father's footstep and is determined to become a Hunter too.
Moreover, this series is filled with action-packed and amusing scenes. Even the antagonist characters got nice character designs and storyline. And as the story progresses, this anime series gets better and better.
Then, let me introduce you to some amazing anime series which are similar and just as good as Hunter x Hunter.
10 Worth Watching Anime Like Hunter X Hunter.
Sa-a, Hajime you!! (Let's begin)
1. MAGI: THE LABYRINTH OF MAGIC
Genre: Shounen, Magic, Fantasy, Adventure, Action
Released 2012
Magi: The Labyrinth of Magic, is an anime television series based on a Japanese manga series written and illustrated by Shinobu Ohtaka. It is largely inspired by various stories from 1001 Arabian Nights, Tales of Aladdin, Sinbad the Sailor and Ali Baba.
The series sets up in a world where every living being possesses an essence known as Rukh (Rufu). When they die the essence returns to the flow of Rukh where the essence gives life to the beings, a rebirth called Fate.
However, once a person overcomes the human emotions like sadness, hopelessness and anger, the Rukh is considered as corrupted, unstable and dark. These beings are sent to the process known as Fall into Depravity (Daten).
Furthermore, people can use Rukh in their bodies to produce an energy known as Magoi, which gives enormous power to their magical weapons and abilities. On the other hand, there are several magic castles and traps, full of treasures known as Dungeons.
Each dungeon has a powerful magic being, a Djinn. The story revolves around a young kid named Aladdin, who travels the world with his best friend, a flute with a Djinn in it, named Ugo.
Soon he discovers he is a Magi, a magician who is born to choose king vessels. A king who will follow the righteous path, battling against those who want to destroy the cycle of fate. Watch his adventure as he meets 1001 Arabian nights and fights to keep the balance in the world.
2. JOJO'S BIZARRE ADVENTURE
Genre: Vampire, Supernatural, Shounen, Horror, Fantasy, Drama, Adventure
Released 1992
JoJo's Bizarre Adventure, this television series is based on a Japanese manga series written and illustrated by Hirohiko Araki. This series has 8 different story arcs, each following a protagonist with a nickname JoJo. This series has 4 seasons till date, and is well known for its character design and art style which is greatly influenced by western music and fashion.
The series is set in reflection of the real world with existing supernatural forces and beings. In that world people are capable of transforming their inner spiritual power into two different energies. One into a Stand and another Hamon.
The story revolves around Kujo Jotaro, a normal high schooler until, after seeing his grandfather Joseph Joestar fighting with his friend Muhammad Abdul, he learns he has star platinum energy within him, the Stand.
The first 6 parts revolve around the generational conflict between Jonathan Joestar (great-great-grandfather of Jotaro) and Dio Brando. Dio Brando was a vampire who was revived after 100years.
Jotaro decides to join his grandfather Joseph and Abdul's trip to Egypt to defeat Dio Brando once again. The remaining 2 parts take place in an alternate universe.
3. THE PROMISED NEVERLAND
Genre: Horror, Sci-fi, Shounen, Mystery, Dark fantasy, Thriller, Mystery, Psychological
Released 2019
The Promised Neverland, also called as Yakusoku no Neverland, is a television series based on Japanese manga series written and illustrated by Posuka Demizu. It has two seasons till date and produced as anime television by CloverWorks. The manga version won the 63rd Shogakukan Manga Award in the Shounen category in 2018.
This series takes place in the near future, in the year 2045, 1000 years after the agreement called The Promise. The promise was an agreement between Humans and demons in order to end the long war where each would live in their own world.
Due to the agreement humans freed themselves from the threat of demons and in the demon's world, human breeding farms were set up to provide food for them. The special breeding farm was set up under the guise of orphanages where a human mother would look after the children.
The kids believed that they're orphans and would be adopted once they're grown up. But the truth was, at the age 12, they were taken out for adoption and later fed to high-ranking demons. Demons eat the humans and take their attributes, in order to prevent themselves from degenerating into mindless monsters.
The series revolves around a cheerful 11-year-old girl named Emma, an orphan living with other 37 orphans in Grace Field House. Life couldn't be any better for orphans, they were happily living together as a big family.
However, all good times must come to an end, the three oldest siblings Emma, Norman and Ray, discover the cruel truth. They decide to escape together but Norman is taken away for adoption. Follow their adventure as they meet various demons and fight against the demon Queen for freedom.
Genre: Slice of Life, Action, Comedy, Shounen, Supernatural
Released 2016
Mob Psycho 100, also known as Mobu Saiko Hyaku, is a Japanese television series produced by Bones. The manga series was written and illustrated by ONE. The series centers around an average middle school boy named Shigeo Kageyama, nicknamed MOB for lacking a sense of presence. Although he looks like an ordinary guy, he was a powerful Esper with incredible Psychic abilities.
He could lift objects, bend spoons with his mind from a very young age but he stopped using his abilities in order to prevent negative attention from the public. However, he tends to lose control over his abilities.
In order to learn how to control his abilities, Mob works under a self-proclaimed psychic named Reigen Arataka (in fact doesn't have any psychic abilities). Mob desires to live a normal life and the only thing he wants is to befriend a girl in his class, Tsubomi.
He continues his daily life with suppressed emotions, attempting to realize the purpose of his existence. But due to his uncontrollable power he eventually encounters other Esper's around the city like Claws.
5. MADE IN ABYSS
Genre: Adventure, Fantasy, Drama, Sci-fi, Dark fantasy
Released 2017
Made in Abyss, also known as Meido in Abisu, is an anime television series adaptation produced by Kinema Citrus. The series is set in a town which surrounds a giant hole commonly called Abyss.
The Abyss harbors, wondrous creatures, artifacts and mysterious remnants of a civilization long perished; therefore, it was a popular hunting spot for Cave Raiders. Cave Raiders are people who take dangerous descents into the titanic pit and recover whatever they find.
But returning from the Abyss was a dangerous and potentially fatal malady known as the curse of the Abyss, manifest upon ascension. The deeper one goes; the effect of curse gets critical. The story revolves around a 12-years-old energetic trouble-prone orphan girl named Riko.
She lives in the orphanage named Belchero in the town of Orth. Riko wishes to follow in her mother's footsteps who was a legendary Cave Raider named Lyza, the Annihilator. She gave birth to Riko in the Abyss. However, her mother disappeared in the Abyss 10 years back.
Riko was also the victim of the curse, due to the curse she wears glasses as she develops a headache if she does not view the world through a crystal lens. One day while exploring the pit she stumbles upon an amnesiac robot. Having no memory of his own name, Riko named him Reg.
As the story progresses these sweet episodes turn into complicated, dark, terrorizing, action-packed series.
6. DARLING IN FRANXX
Genre: Mecha, Sci-fi, Romantic drama
Released 2018
Darling in Franxx, also known as Darin in ZA Furankisu, is Japanese anime television series co-produced by A-1 Picture and Trigger. Animated by Trigger and CloverWorks. The series takes place in a near future where children are artificially created and brainwashed solely to protect and defend the remaining civilization who've abandoned the surface.
These artificially created children were called Parasites, who are educated only for piloting Franxx in pairs to defend the civilization from giant creatures known as Klaxosaurs.
The adults and children lived in very contrast worlds, the adults lived in technologically advanced cities within plantations which kept them alive or immortal.
The story follows a team of 10 parasites, a male parasite is termed as Stamen and a female is termed as Pistil. As they were artificially created, they have a short life-span. The series revolves around the partnership of Hiro, a former prodigy and Zero two.
Hiro can never be a Stamen again with his partner, because they failed the test and Zero Two is an elite Franxx pilot with Klaxosaurs blood, red horns and rumored as Partner Killer.
It was rumored that whoever partners with Zero two, are killed after pairing with her third time. Despite the rumors Hiro volunteers Zero two to become her new partner. Eventually Zero two calls Hiro, her Darling.
7. FULLMETAL ALCHEMIST: BROTHERHOOD
Genre: Action, Adventure, Fantasy, Drama, Magic, Military, Shounen
Released 2009
FullMetal Alchemist: Brotherhood, it is also known as Hagane no Renkinjutsushi and in short FMA. It is based on a Japanese manga series by Hiromu Arakawa, produced by Bones, and directed by Yasuhiro Irie. Written by Hiroshi Onogi and composed by Akira Senju. This series revolves around two brothers, Edward and Alphonse Elric, who were raised by their mother, Trisha, whilst their father abandoned them.
Later, Trisha died from an incurable disease and the kids were cared for by her grandmother Pinako and her best friend Winry Rockbell. The two brothers with their Alchemy power, try to bring their mother back to life, however human transmutation was taboo.
The process fails and as a toll for using taboo alchemy, Edward loses his left leg and Alphonse loses his entire body. To save his younger brother, Edward sacrifices his right arm and brings back Alphonse's soul back to a suit of armor.
After the tragic accident, they head to the city and become a government sanctioned Alchemist in order to find the philosopher stone which can return their original bodies. To know if they were able to achieve their goal, do watch this amazing series…
8. DORORO
Genre: Action, Adventure, Demons, Shounen, Supernatural, Historical
Released 2019
Dororo, a heartbreaking television series based on a Japanese manga series written and illustrated by Osamu Tezuka. According to Tezuka the title is inspired from his childhood memory of his friends pronouncing Dorobo (thief). It is a short 26-episode series produced by Mushi Productions; it was one of the most loved anime of 2018.
As well as, it bears the fame of being the World Masterpiece Theater series. Just like HxH, it has a very similar tragic story but Dororo is a bit darker. This series is set in the Sengoku period, and the story revolves around a samurai wanderer (ronin) named Hyakkimaru and a young orphan thief Dororo.
Hyakkimaru was born malformed, limbless, without internal organs and facial features. Because of his biological father Daimyo Kagemitsu, a samurai lord. Who bartered away his sons' organs to 48 sealed demons in exchange for wealth and dominance on the battlefield.
Afterwards, to save Hyakkimaru from his father, his mother Oku set him adrift on the river. However, he survives because of a medicine man named Jukai Sensei, who raised him and equipped him with primitive prosthetics. Later, he was attracting demons and he became a threat to the sensei's life.
After all this sensei didn't have any other choice and sent him on his way. The wanderer learns from a ghostly voice that if he can kill all the 48 demons responsible, and reclaim the stolen pieces of his body, the possibility is that he can regain his humanity.
After killing 15 demons, he meets Dororo who thereafter travels with Hyakkimaru. What will happen when he confronts his cruel father?
9. YU YU HAKUSHO
Genre: Demons, Action, Martial Arts, Comedy, Fantasy, School, Shounen
Released 1992
Yu Yu Hakusho, also referred to as Yu Yu Hakusho: Ghost Files, this anime television series is predicated on a Japanese manga series written and illustrated by Yoshihiro Togashi. The series revolves around a 14-years-old delinquent boy, named Yusuke Urameshi.
He was hit by a car and killed in an attempt to save a child in the traffic. When he wakes and finds himself dead and greeted by a ghost named Botan, a woman who is pilot of a River Styx and ferries souls to the underworld or spirit world.
Yusuke soon finds out from Koenma, son of the underworld's ruler king Enma, that he wasn't supposed to die and has a chance of resurrection and can bring his body to life.
Yusuke successfully passes the series of tests and is resurrected, with the help of his friends Keiko Yukimura and Kazuma kuwabara.
However, after returning to life he becomes a spirit detective or underworld detective, his task was to investigate supernatural activity within the human world.
Along with his comrades, one adventure after another happens whether it be an investigation, defeating demons or a tournament.
10. TO YOUR ETERNITY
Genre: Adventure, Drama, Shounen, Supernatural, Fantasy
Released 2021
To Your Eternity, also known as Fumetsu no Anata e and 'To you, the immortal'. This anime television series is based on a Japanese manga series written and illustrated by Yoshitoki Oima. According to him, this series is inspired from her own grandmother's death.
This series talks about the story of a mysterious immortal being sent to the earth emotionless, with no feelings or sense of self and no identity. To begin with this white orb has the ability to take the shape of those around it that have strong impulse.
First, he begins with the shape of a stone, then takes the form of a dying Arctic Wolf. Then the wolf meets a boy living alone in the tundra, who dies from a major wound, now the wolf takes the form of the kid and thereafter he keeps it as default form.
After acquiring the form of the boy he sets off to a never ending adventure in search of emotions, feelings, experience, places and people.
Yoi (well),
There are more similar anime series like Hunter X Hunter, which I haven't mentioned in the above section are:
7 SEEDS
BERSERK
DR. STONE
NARUTO
THE SEVEN DEADLY SINS
MY HERO ACADEMIA
DEMON SLAYER
BLACK CLOVER
AKAME GA KILL
Anyways, if there's any good anime series similar to Hunter X Hunter and we forgot to mention it in the list, please share your valuable thoughts in the comment section below.
Finally, I hope you'll enjoy these highly recommended anime series. Ja mata ne! (See you later!)